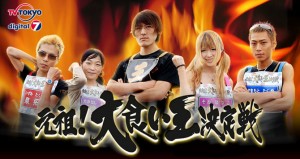 We're searching for Australia's best competitive eaters to represent Australia in a popular Japanese TV show called "The Battle of Big Eaters: World Championships". This global TV series will see Australian eaters compete against the best the USA, Japan and China have to offer. Sydney will host the Australian qualifying round in mid October, where the top four winners of the competition will be selected to represent Australia. These top four Australian competitive eaters will be flown to the USA for filming of the TV series, competing against the USA, Japanese and Chinese teams for the World Championship title.
Event Format
Unlike most Australian competitions, Japanese competitive eating events are volume based rather than speed based. The qualifying round will be 30 minutes in length, and the top four competitors will be determined by who can eat the most of the nominated food in that 30 minute period. There may be up to 20 competitors taking part in this event in Sydney. The food to be eaten has yet to be determined.
Competitor requirements
Competitors who wish to enter the qualifying event must be available to compete at the qualifying round in Sydney on 12 October 2014, and if successful be available for travel to the USA for one week around the middle of November 2014 (dates to be confirmed)
Competitor Selection
CompetitiveEating.com.au is working closely with TV Tokyo to select a group of Australia's best competitive eaters to fly to Sydney for the qualifying event. Competitors will be selected based on experience, achievements and marketability for the show. To ensure the most suitable candidates are selected, we may ask contestants to prove their abilities prior to selection to confirm their suitability. As this event will be viewed by millions around the globe, we must ensure we select only the most suitable candidates to represent Australian on a global stage.
DO NOT apply for selection if
you are not available to travel to the USA for one week to compete in mid November 2014 (dates to be confirmed)
you do not have a valid passport
have a criminal record, including offences involving the use of a controlled substance (which may impact your ability to travel to the USA. See here for further information)
Frequently Asked Questions
Q: Will you pay for flights and accommodation to Sydney?
A: If you are chosen as one of the suitable candidates (by way of experience or other eligibility criteria), then your flights and accommodation will be paid for to attend and return from the qualifying event in Sydney.
Q: Even if I'm not chosen by CompetitiveEating.com.au for paid flights and accommodation, can I still compete in the qualifying event?
A: There are limits to the number of competitors that can enter the qualifying event. If you are deemed suitable to qualify then we may allow you to pay for your own flights and accommodation to attend.
More details will be posted to this page as information is made available. This is an amazing opportunity to compete on a global stage in front of millions. If you've got what it takes, fill in your application details in the form below and we'll keep you up to date on the selection process. Like us on our Facebook Page for regular updates and information about the event.
[ninja_forms_display_form id=2]