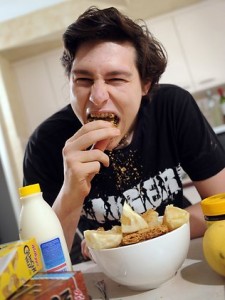 Well known Australian competitive eater Daniel Mercer has set his sights on the USA, and aims to compete in May.
Via: The Courier Mail
WITH every eating challenge he has entered under his belt, Capalaba's Dan Mercer plans to take his scoffing skills to the international circuit and take on eating professionals in the home of the world's elite – America.
Having won $7000 in prizes, the 24-year-old plans to hit the USA in May and have a crack at the big leagues, where eating competitions are televised and prize money is lucrative enough to make a living, if your stomach is strong enough.
Mr Mercer's fast rise in the national amateur rankings began just a few years ago when he entered the Pancake Manor's pancake eating competition on a whim.
"I saw a little poster saying 'Annual Pancaking Eating Competition.' I thought, 'Oh, I like pancakes and if I eat eight pancakes that's the same price as one plate."
Handily besting the rest – "I thought 'OK that's kind of weird I ate 14 pancakes and I was by no means full" – he realised he had a talent, of sorts. He has since claimed more than a dozen other titles from pies to ramen noodles, schnitzel and pizza.
"I used to be quite overweight – 120kgs in fact. (I) went through a weight loss regime, eventually reached 62kg, and now, well, I don't really care much any more – I believe I'm somewhere around 76, and I basically eat whatever I want."
Read more of the article here