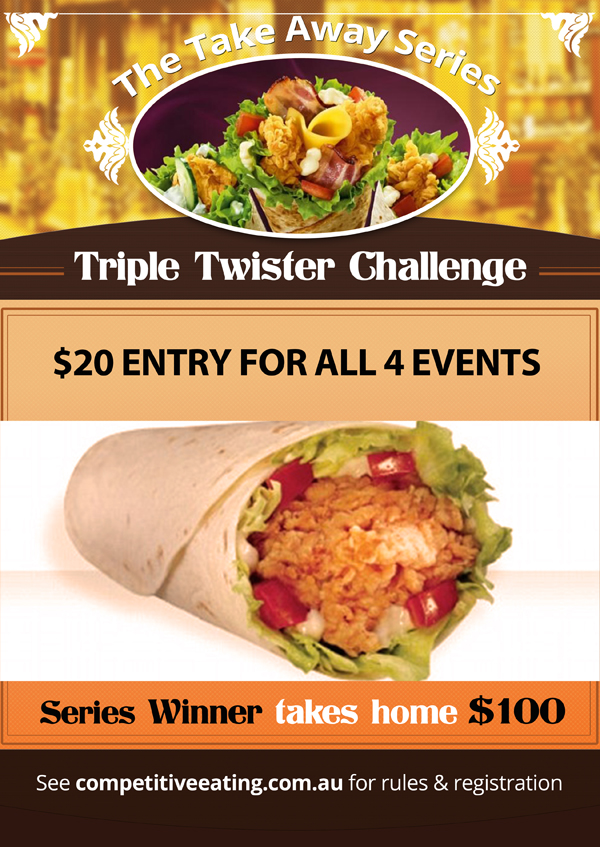 Another week comes to an end and we are nearly at the conclusion of Australia's first nationwide comp!
Thanks to everyone for showing their support so far…this has truly been fun for all involved and we have seen some amazing times posted!
Now down to business!
The week started off fairly slow, with most people doing their challenge later in the week. and damn it heated up! We never thought we would see times this quick but this we are always being surprised!
We are going to post the videos as they came in!
Gorgin Georgie put in another gallant effort, showing she is one to look out for in the female section for sure!
GG finished with a time of 7:48! Check out her video here for some funny watching:
Jordan Lucas Brown was next to post a time, where he managed to eat the 3 twisters in 3:35…Averaging just 1:10 per twister…very quick way to get down over 1500 cals! Bet Jordan worked this off the next day with his workout and business partner, Lucas (who's time will be revealed a little lower)
The next quickest was Andy Mantequilla, who unfortunately posted a time of 3:22ish (time was stopped before last mouthful, but this is a 4 second addition estimated).
This is Andy's first set of consecutive comps, and he has a very promosing future ahead…We would love to see this guy smash down his favourite food, as we can see he has major potential.
Andy's video is below:
And in comes the top 5 videos….
5th quickest this week goes to Lucas Stewart who is improving week by week.  Massive potential here with a time of 3:11.
The next two videos are by Hungry Haydo and Daniel Mercer.
Hungry Haydo posted a time of 2:16…narrowly beaten Daniel by just 3 seconds, who got 2:19! What a tight battle.
Both Hungry and Daniel have been in the game for nearly two years so it's good to see the boys still duking it out!
Catch Hungry's Video here:
and Daniel's here:
Col the Conqueror was next to post his time, and managed a VERY competitive time of 1:51…
Col has dominated this competition with 2 wins…but unfortunately this week was knocked off by one of Australia's best….
Here is his video, complete with candelabras!
But who the hell could beat this do you ask??
Well there was only one competitor that we knew was capable of such efforts..
Jim Bob Rose with a time of……..1:32!!!!! Incredible.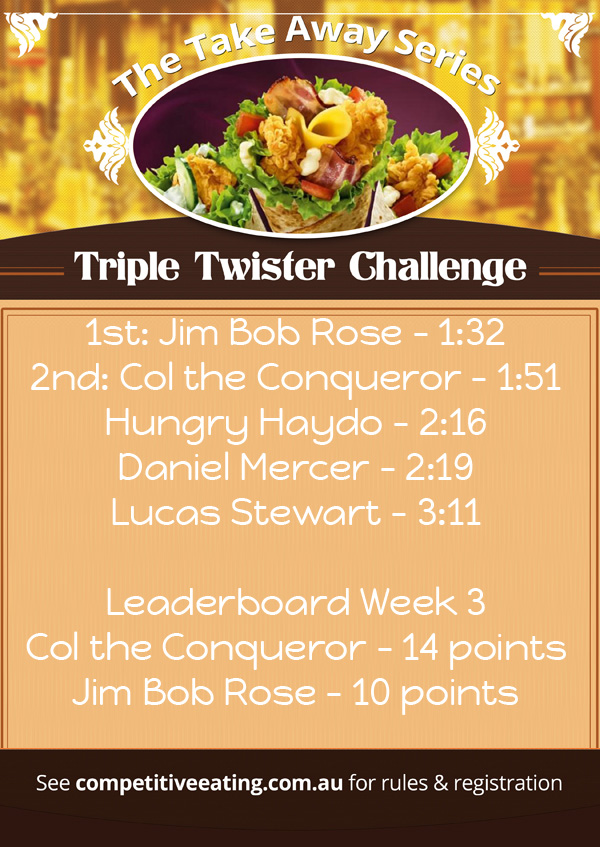 Current leader board:
1st Place – Col the Conqueror (14 points)
2nd Place – Jim Bob Rose (10 Points)
3rd Place – Hungry Haydo (7 Points)
4th Place – Dan Mercer (6 Points)
4th Place – Ollie The Ressler (6 points)
5th Place – Lucas Stewart (2 Points)
*Unfortunetly, Ollie the Ressler didn't submit a video in time for the cut off this week! Ollie is a strong contender for the competition and we love seeing him slam down the food.  Looking forward to a big week 4 from him!
BRING ON WEEK 4!!! 100 Nuggets