Results
12 competitors battled it out for the $500 first prize, in what was to be an extremely hot day for all involved, not just from the burger but from the blistering heat of the day!
Once seated, eaters were given a brief explanation of the rules, the most notable being that the burger could not be pulled apart. You were allowed to cut the burger into halves, but no pulling apart the bun or salad. Soon afterwards, a casual "and we're away", and everyone commenced the competition.
A few of the contestants bowed out early, unable to cope with the unbelievable heat stored in the Megadeath burgers served up by the famous diner. The chilli infused meat, the buns smothered in Blairs Mega Death sauce, the mountains of onions. All of this added up to what would be a painful experience for all.
Daniel took the lead early, with eaters beside him realising they had no chance of winning, asking what the prize for second place would be. No doubt considering throwing in the towel!
In a record 5:45, Daniel Mercer takes out first place.
In what seemed like an eternity, second place was won by Sam in 8:33, and a closely fought 3rd place won by Skip.
Only a few mouthfuls behind, 4th place was taken by Colin "The Conqueror" MacLaurin.
In a true act of defiance, one competitor stayed behind, determined to finish the burger, and did!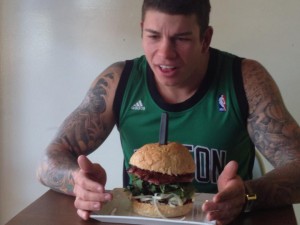 "Off the Wall Diner" is holding their first "World's Hottest Burger Mega Death Challenge" eating competition, with a $500 first prize! All profits are being donated to the Cancer Council Queensland.
Event Details:
(supplied by their Facebook Event Page, https://www.facebook.com/events/438898756169715/)
FIRST TO FINISH WINS!! Starting Time TBA
WIN $350 + $150 vouchers = $500 TOTAL PRIZE VALUE
You must be 18years old or over.
YOU MUST BOOK YOUR ENTRY AND PAY BY 20 NOVEMBER
Off the Wall Diner 07 3207 3209 to book.
FIRST 10 TO BOOK AND PAY ONLY $20!!!!!
$25 to Book!!! (subject to change at owners discretion)
ALL PROFITS WILL BE DONATED TO CANCER COUNCIL QLD
If you cant come to our function please still support!!
https://secure.cancercouncilfundraising.org.au/registrant/donate.aspx?eid=40163&langpref=en-CA&teamID=57965&Referrer=http%3A%2F%2Ficanforcancer.org.au%2F
More info coming soon!